As we reach the midway point of the year, Maui's real estate market has found itself in a state of flux. Sales activity has tapered off in recent weeks, and both buyers and sellers are facing challenges due to rising mortgage interest rates and a perpetual lack of available properties. With the market approaching one year of this ongoing stalemate, the focus has shifted towards the crucial factor of pricing. In this blog, we will delve into the current state of Maui's real estate market, the impact of pricing on sales, and how the condo market has experienced a noticeable shift in recent months.
A Market in Neutral
The Maui real estate market remains stuck in neutral, with sales activity showing signs of slowing down. The creeping mortgage interest rates, now hovering around 7%, and the lack of available properties have limited options for both buyers and sellers. As we approach the second half of the year, the variance in year-over-year change is expected to decrease, signifying the prolonged nature of the market's stalemate.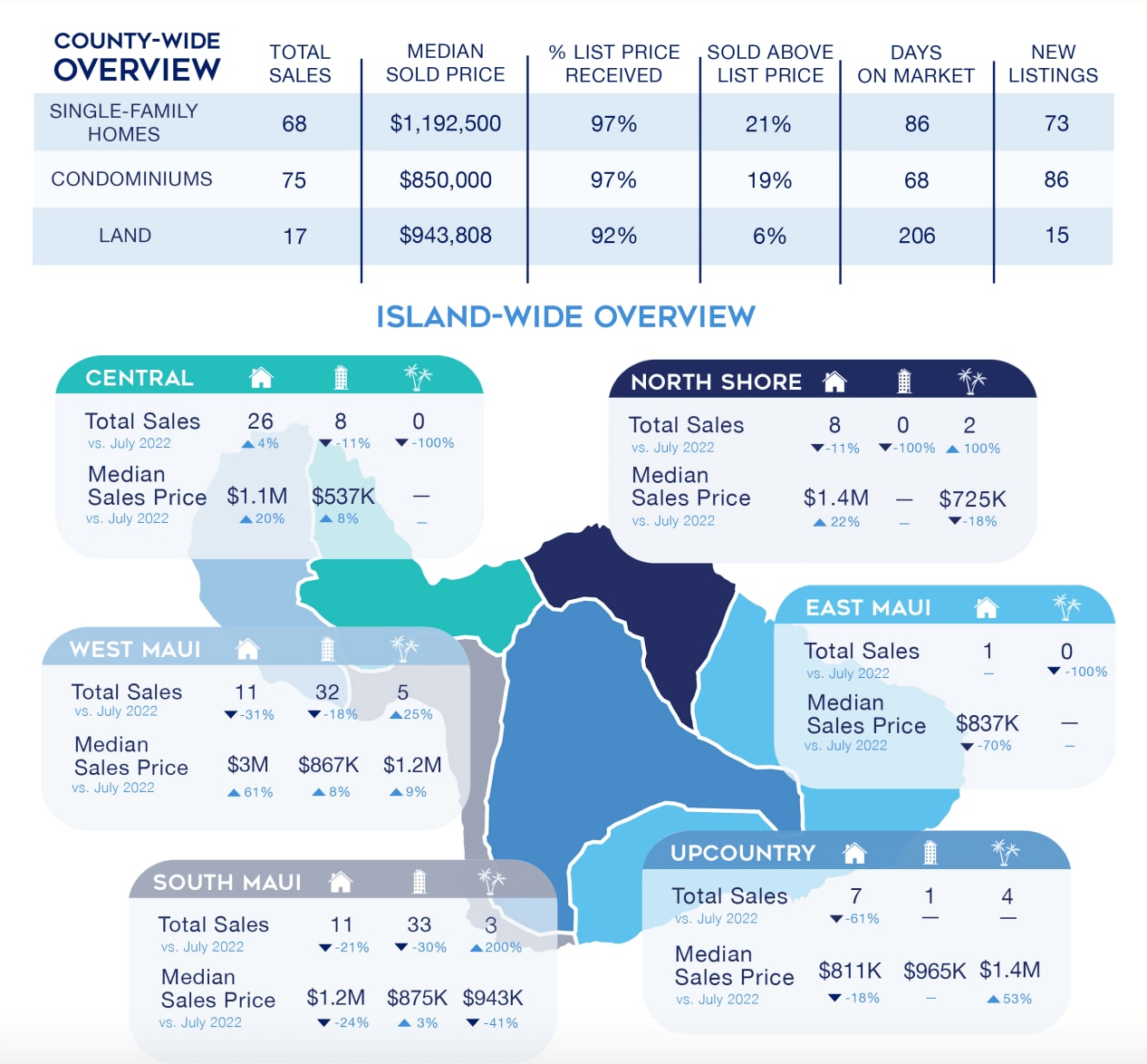 The New Real Estate Mantra: 'Price, Price, Price'
In the current Maui real estate landscape, pricing has become the pivotal factor for successful transactions. Properties that are well-presented and appropriately priced continue to sell quickly, often exceeding the asking price. These properties account for 20% of total sales, showcasing the significance of strategic pricing.
However, the market also sees nearly one in every three properties sold experiencing at least one price reduction since being listed. Such price reductions have prolonged the time properties spend on the market, with those undergoing reductions averaging 196 days on the market, compared to 87 days for properties with no reductions.
The Cooling Condo Market
In recent times, the Maui condo market has experienced a noticeable cooldown, especially since its peak in March 2023. Total condo sales have dropped by 40%, and median prices have slipped from record highs of $994k in June to $850k in July. Despite this decline, condo prices are still up by 8% year-over-year, with specific areas such as Wailea/Makena, Napili, and Kihei leading the trend.
The Impact of Visitor Rates
The Maui condo market's cooling can partly be attributed to the declining daily visitor rates, which have presented increasing headwinds for short-term vacation rental condos. With fewer tourists coming in, demand for such properties has weakened, affecting sales and pricing dynamics.
As Maui's real estate market continues to navigate challenges, it's clear that strategic pricing and expert guidance are key to successful transactions. Whether you're a buyer looking for the perfect property or a seller aiming to achieve the best value for your home, it's essential to have a reliable and experienced team by your side.
If you're ready to embark on your real estate journey, don't hesitate to reach out to GM Maui Group. With our expertise and personalized approach, we will guide you every step of the way. Call us today for all of your buying and selling needs, and let us help you find your perfect piece of paradise in Maui.